About The Basement Systems® Network
Largest network of certified basement waterproofing contractors in the USA, Canada, and the United Kingdom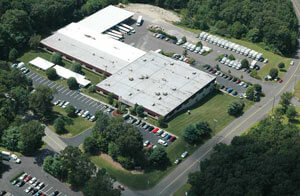 Aerial view of the Basement Systems® International Headquarters in Seymour, Connecticut
Basement Systems® Contractors
Fair, Honest Pricing
Prompt, Thorough, Courteous Service
Experienced, Trained, Professional Staff
Patented, Reliable, Innovative Products
Fixing Wet Basements Since 1987
The Basement Systems® International Network is a gathering of more than 300 basement waterproofing and crawl space repair contractor companies all across the United States, Canada, and the United Kingdom. In business since 1987, the network is headquartered in a 92,000 square foot facility located in Seymour, Connecticut.
Basement Systems® dealers are independently owned and operated local contractors, who work together with other dealers across the network to share their experience, practices, and product knowledge. Combined, we are a relentless pursuit of the most tried and true ways to waterproof basements and keep them dry all the time!
Award-Winning, Patented Products
Basement Systems® currently holds more than 30 patents on its innovative waterproofing products, with a full-time Research and Development department working every day to discover and design new and better basement waterproofing products. We have dozens of waterproofing products available to each of our dealers, with new ones being developed all the time.
Over the years, we have won more than 40 awards for quality and innovation in our industry. Additionally, our business practices and services have earned Basement Systems® an A+ Rating with the Better Business Bureau. Our basement and crawl space systems have been installed in over 200,000 homes across the network, and they've proven the superior solution for waterproofing and moisture control.
Each of our products includes a written warranty, which is fully transferable to the next homeowner!
A Responsible, Community-Driven Network

Basement Systems® encourages its dealers to be an active, contributing member to the local community and to treat their employees well. We were recognized as one of the Top 10 "Best Places to Work in Connecticut" in 2006, and with over 100 employees, we've had no worker's compensation claims since 1995.
Our employees commonly stay with us for five, ten, fifteen, twenty years or more -- because they love working with us!
This means that we have the experienced, professional, highly trained staff that you need to bring the best to you and your home. We set an example for our dealers through our continuous involvement with the local community, local charities, and by making our building, facility, and equipment available for local events and fundraisers.
Active Participation in United Way
Along with being recognized with the United Way Community Support Award every year since 2005, we have also received the following awards from the United Way:
2009 - Corporate Community Excellence in Leadership Award, Top Dollars Raised
2010 - Top Dollars Raised
Acclaimed by the Better Business Bureau
Basement Systems®, Inc. has won multiple awards with the Better Business Bureau, including the following:

1999 - Torch Award for Marketplace Ethics
2000 - Consumer Education Award, Business Integrity Award
2002 - Consumer Education Award, Quality Award
2003 - Torch Award for Marketplace Ethics
2004 - Consumer Education Award
2005 - Site Marketing Award
2007 - Site Marketing Award, Torch Award for Marketplace Ethics
We have been a BBB Accredited Business since 1987.
Your International Waterproofing Contractor Network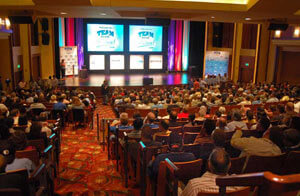 Our 2009 Annual Convention, with waterproofing contractors attending the Bushnell in Hartford, CT.
Our surprise keynote speaker in 2009 was Nick Vujicic.
Basement Systems® provides continuing training classes and workshops for our dealers, in session all year long in our international headquarters in Seymour, CT. Each year, hundreds of contractors and company owners visit our facility to keep up to date on installation and service techniques as well as to hone their skills in the office.
Each year, Basement Systems® holds an annual convention, where hundreds of contractors visit Basement Systems® for training, networking, and events. Vendors meet to educate contractors on new products and services, and Basement Systems® reveals many new product releases.
During our annual convention, we also bring in a guest speaker, with past speakers including astronaut Jerry Linenger, former NBA basketball player Walter Bond, and motivational speakers Nick Vujicic, Les Brown, and Brian Tracy. Each convention includes a new surprise for dealers!
If you're looking for a responsible contractor who has the services, training, and experience you need to dry your basement or crawl space, we're the waterproofers for you!
Basement Systems® in the News
Looking for a price? Get a no cost, no obligation free estimate.