Installing a Finished Floor in your Basement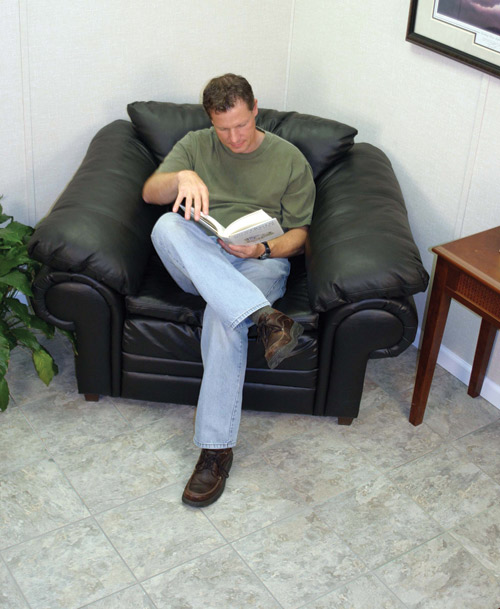 Typical basement floors are hard, cold concrete. Since concrete is porous, ground moisture continually makes its way through, contributing to the humidity in your basement. Other products (ceramic, stone, or marble tile) are grouted to the concrete and are difficult and expensive to repair or replace.
When traditional flooring materials like organic carpeting, chipboard and wood are placed on a concrete basement floor, moisture collects between the flooring and the concrete floor. Over time that moisture will be absorbed by the materials on top and lead to mold, rot, and musty odors.
At Best Home & Property Services, our basement flooring options are all made specifically for concrete basement floors. When installed in your home, our flooring options will never rot, decay or support mold growth. All of our flooring products are designed to easily interlock for quick installation without grout or adhesives. The interlocking flooring is ideal for basements since the flooring can be picked up and reinstalled if water gets underneath. Combined with our other basement products, and our basement waterproofing system, it's a great way to upgrade your home!
With a one-day installation, you can add beauty, comfort, and value to your home with our finished basement flooring. For a free basement floor quote, call or e-mail us today! We proudly service South and North Carolina, including Marion, Dillon, Murrells Inlet, Manning, Cheraw, Loris, Kingstree and nearby areas.
Basement Flooring Products in South Carolina and North Carolina:
Five Different Ways To Upgrade Basement Floors
Basement Flooring Options
At Best Home & Property Services, we're proud to provide five different basement flooring options with a variety of color and texture choices.
How you finish your floor will define the mood of the new space, and it can easily make or break the ambiance of a room.
If you'd like a free quote for basement flooring with no obligation, we'd love to help you. Contact us today to get started!
ThermalDry® Basement Floor Tiles

Sandstone Gray

Canyon Beige

ThermalDry® basement floor tiles are engineered specifically for basement environments. Unlike ceramic basement floor tiles, ThermalDry® basement flooring will never crack or shatter. They are available in both Sandstone and Canyon Beige to allow you to find the right color choice for your home's design.

ThermalDry® creates a thermal break from the surface of your concrete floor, making the floor temperature 8-10°F warmer. This flooring has no grout to clean, making it a very low-maintenance flooring option. Should it ever be damaged, ThermalDry® Floor Tiles are easy to repair or remove and replace.
ThermalDry® Carpet Basement Floor Tiles

ThermalDry® carpeted floor tiles

are designed to keep your basement floor warm and dry. Unlike a long blanket of carpeting, damaged or worn tiles can easily be replaced. This carpet comes in Charcoal and Mocha colorings, which fit perfectly with nearly any color scheme and furniture.

ThermalDry® carpeting is made from inorganic materials to provide a waterproof system that won't be damaged by mold, mildew, odors, or rot. The floor tiles provide a snug fit to the basement perimeter without needing to be glued or adhered to the floor. This system doesn't have any need for a subfloor, and if for some reason a tile is damaged or worn out, the individual tile can easily be replaced.
Pro Comfort Carpeting

Pro Comfort Carpeting

is an innovative basement carpeting option that is made from completely inorganic materials to ensure a long lasting, waterproof solution. Unlike traditional carpet, which is easily damaged by water, mold, and mildew, Pro Comfort Carpeting is waterproof and will resist the growth of mold, mildew, and bacteria.

Pro Comfort Carpeting comes in a modular design that allows for individual squares to be easily replaced in case of spills, damage, or worn down areas. This carpet has a soft, comfortable feel that makes your basement floor much more enjoyable. When combined with our ThermalDry® Insulated Floor Decking, Pro Comfort can help raise your floor temperature as much as 17°F, making your basement more comfortable than ever before.
ThermalDry® Basement Subfloor Matting

ThermalDry® Basement Floor Matting

is perfect for homeowners who want to install wall-to-wall carpeting in their finished basement. By installing this underneath your carpeting as a subfloor, you protect it from moisture from the concrete below. This subfloor is made with completely inorganic material to ensure that it lasts longer and won't have any issues with mold growth should you have a leak in your basement.

ThermalDry® subfloor matting is 100% waterproof, creating a vapor barrier on your floor. It also provides a thermal break that causes the surface of the floor to be 8-10°F warmer than the concrete floor. This product is compatible with tack strips and will outlast several cycles of carpet. ThermalDry® installs quickly and doesn't need grout or adhesives.
Get a free basement flooring quote today!
If a new basement floor sounds like the right option for your home, call the local experts at Best Home & Property Services today. We will help you evaluate your basement and choose the best flooring option for your needs. Contact us today to get started with a free estimate on all our basement waterproofing products in Myrtle Beach, Florence, Sumter, Conway, Lancaster, Hartsville, Georgetown, Darlington, Camden, Bennettsville and throughout the surrounding areas.
Looking for a price? Get a no cost, no obligation free estimate.